Med din hjälp har vi kunnat skicka ner ytterligare 20 000 kronor till matpaket! Så här skriver vår kontaktperson, Annabel: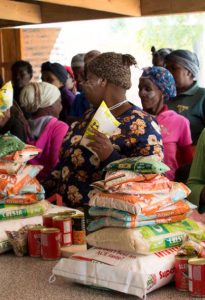 "Dear Vivianne, Anne, Annica, Anna and all members of Project Education,
On behalf of the beneficiaries of the food parcels and of our programme, I would like to say a sincere thank you for the donation which came in to our bank account today. We are extremely grateful to you.
Please find attached your donations receipt. I will send you an updated version of our Annual Impact Assessment Report as well as some pictures taken in the last few days of the food parcel handout via WeTransfer shortly. I hope you will get a sense of the many ways Love to Give has impacted our beneficiaries lives thanks to your incredible donations. You have been the most wonderful fund-raisers, and allowed us to reach hundreds of people monthly, not only with food parcels during a time of extreme crisis for many families, but also in many deeper tangible and intangible ways than we could not have done otherwise. Thank you!
Our motto is A Caring Community – thank you for caring and for being part of our community.
with warm regards
Annabel and the team at Love to Give
Här kan du se
kvittot
på mottagandet av gåvan!